WooCommerce is an amazing platform for online store WordPress. With it you can set up an entire store, integrate with the Post Office and also with your preferred payment system.
However, what about sales? What do they look like?
The platform serves only as an open structure, so it won't help you from the beginning optimize your store to sell more.
So after working with dozens of customers who use WooCommerce in successful stores, I decided to share a little more about optimizing your online store for sales.
1 – Choose a attention-grabbing WooCommerce theme
Whether you like it or not, the first thing your users and potential customers will have contact with is the layout of your store.
If your store's design is average, has errors, or doesn't focus on content that you want to read or see, you probably won't have much patience or won't legitimize your store. I mean, he won't have the security to buy.
If the layout is beautiful, captivating, bug-free and attention-catching, it will probably already gain even more the trust of its user.
A good layout, however, doesn't just relate to the design of your store. Of course, icons, images, colors, fonts and other visuals will make all the difference. But as important as that is usability. That is, it is the ease of your user to navigate, understand what is happening and know what is the next step they should take.
There are good WordPress themes for WooCommerce stores of all kinds. Free, paid and even created customized just for your store. Everything will depend on how much you are willing or willing to invest.
However, it is quite possible that the less you invest, the less you will also have resources and easy possibility of customization.
To help you with the decision, I'm going to present some interesting topics.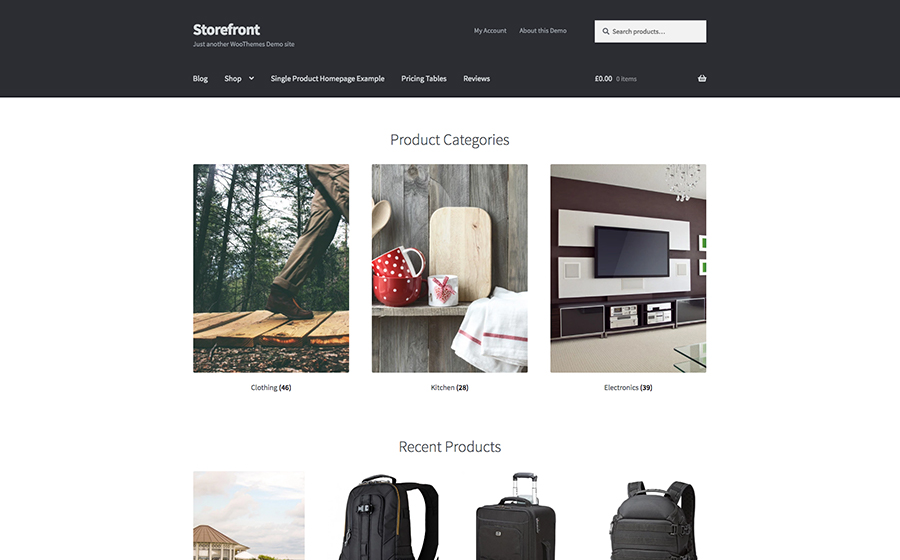 The great advantage of this theme is that it is free and built by the very team that developed WooCommerce. That is, it is well adapted to the plugin and will offer you a simple amount of customization.
For starters, this can be a good theme.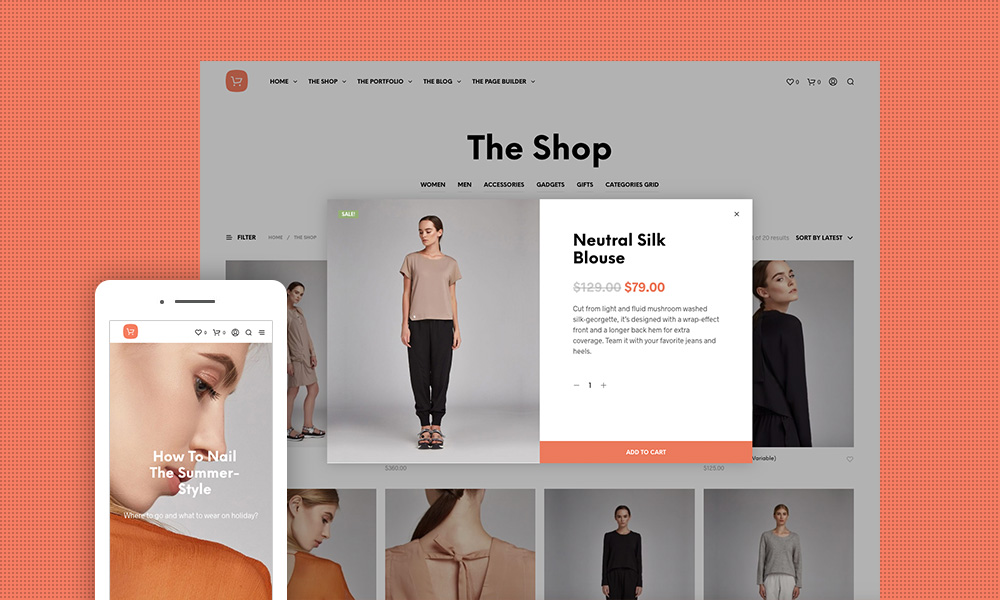 Themeforest is one of the best sources of paid themes on the internet today. There you can probably find a theme exactly the way you want – for the market or niche you want.
Shopkeeper is one of those sensational and very versatile themes. Even, it already accompanies a demo installer that, with one click, you can already configure your entire store according to one of the demos presented.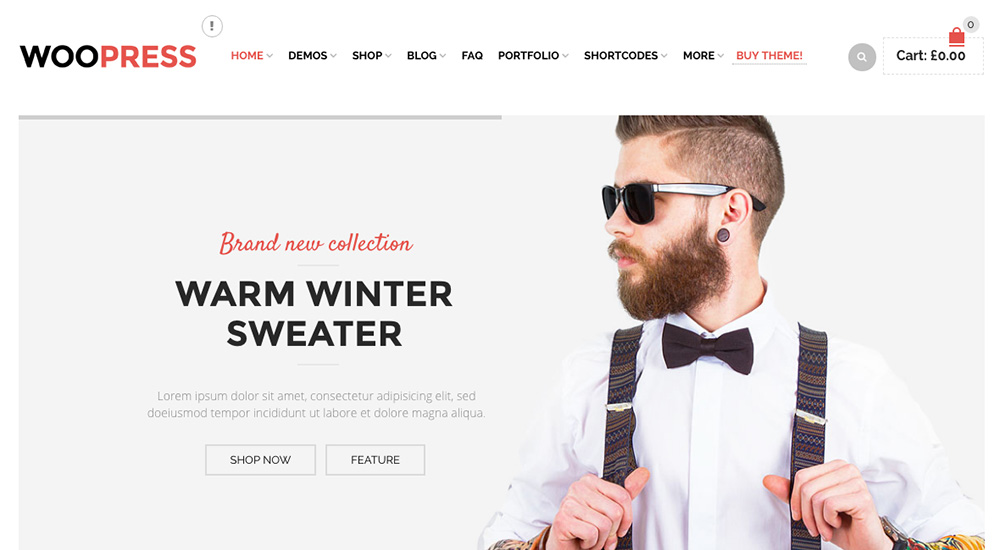 Another paid Themeforest theme. This in particular I have used a lot with customers who today have stores that sell well. It has several settings and features that will make your store very cool.
If you deal with several different brands in your store, this theme comes with a special setting that will help your users filter by tags.
Use effective buttons and calls (CTA)
Call to Action (CTA) is the term we use to determine a call to action for your users.
This is:
Buy now
Click here
Add to cart
Etc
What's special about these CTAs is that ideally your user should have the ability to perform an action on your site when they want to. If it is on the product preview page, it should be able to add a product to the cart when it wants, for example.
Also, these buttons should not be camouflaged on your site, but rather highlighted as something prominent.
If you know how to mess with CSS, HTML and, who knows, JavaScript, you can easily change the color and text of these buttons. However, if you do not have technical knowledge you can use a plugin to do this.
My suggestion is Woo Customizer.

This free plugin is cool because you can customize your CTAs directly on it and still have several other features to draw attention to new products, redirects and styles.
Make products easy to find
We know that users scan our sites for information instead of reading and looking. So the more easily we leave the possibility of finding the products, the more likely these users are to continue in our stores.
For this, what you can do best is organize the categories of products well and also give the possibility of searching for your users.
For this, you can:
Add categories and subcategories to your menu
Remember to correctly classify your products into one or more categories
Add tags to your products for easy search
Add the search field to your menu
Add filters to the category and store listing pages
Make it easy to get to checkout
The behavior pattern of WooCommerce stores is to have the user stay on the product page after they are added to the cart.
That is, after clicking the "Add to cart" button the user is on the page of that added product. And that's not so cool.
Ideally, you move this user to the next step in the shopping funnel. In this case, the page of the cart itself or even the checkout page.
To achieve this, however, you need to change an important setting.
Go to your WordPress admin panel and then in WooCommerce settings.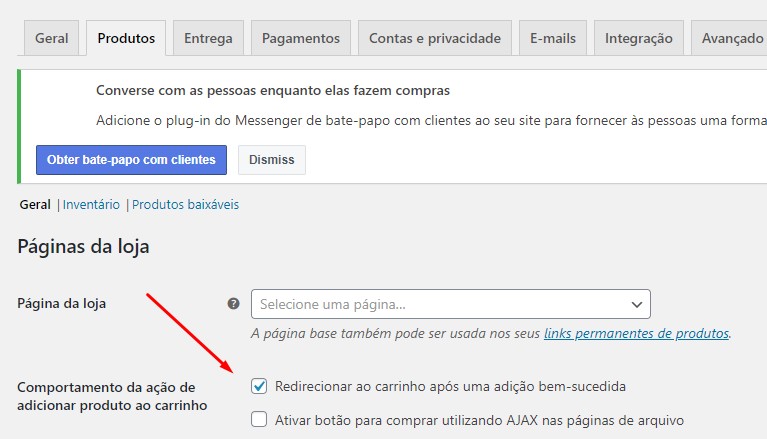 Now, just check the "Redirect to cart after a successful addition" option and your user will already go to the cart after clicking the button.
To further improve this flow, you can use plugins such as:

With this free plugin, you can create a custom flow for your users and have them automatically move to the checkout page after an addition to the product cart.
It is very easy to be configured and in its free version already has the ability to customize the flow. However, in its paid version it has even more cool features such as customization of checkout fields, process customization by product, upsell, and others.
This other paid plugin also directs your user directly to checkout, as its name already indicates.
However, it has other special features that are worth taking a look at like customizing your checkout page.
Do usability tests
An interesting action you can do is to test the purchase flow of your site with other people.
It's important to be with other people – preferably unknown – because you'll really have an unbiased view of your site. By placing someone who doesn't know your site to browse it, you'll see exactly where the browsing problems are.
To do this, you need two types of people:
An observer to follow the test
Participants to perform the actions you want
Before you start, however, you also need:
A clear goal. Determine what you want your participants to do on the site.
Impartiality. Do not give tips or other help in performing the tests.
Clarity. The instructions should be simple and clear, such as: "Access this site, select product X to buy, have delivered to address Y and finalize the purchase with the payment method billeto."
After taking the test, which you should record if possible, you can also ask questions to your participants. This type of test, in turn, will help you answer questions such as:
Do users find interaction with the site easy?
Was it simple to navigate the site?
Is the layout nice?
How simple was it for them to find the desired product?
How simple was it for them to finalize a purchase and navigate the sales funnel?
Did they have to look hard to find the CTA?
Which parts of the site liked and least liked?
These and other questions are relevant to improving the sites at the points of greatest friction or difficulty.
Get a checkout page without distractions
Something that often helps a lot the conversion rate of leads on customers is the checkout page.
Ideally, this page should not contain:
Menu
Links off the page are not required (terms of use, privacy policy, etc.)
Footer
Flashy images or graphics
The simpler and more objective this page is, the better.
To achieve this and customize your checkout page, you can either use your technical knowledge of CSS and HTML or use a plugin like the aforementioned Cartflows.
Cart recovery
It is common for users to sign in to the site, add products to the cart, and even fill out checkout information but don't buy.
Whether it's a distraction, insecurity or other reasons, it often happens to have abandoned carts in our WooCommerce stores.
To solve this problem, we have interesting cart recovery strategies.
The plugin I recommend installing is WooCommerce Cart Abandonment Recovery.

This plugin is interesting because it stores the incomplete information of people who either failed to finalize a purchase or gave up in the middle of the road and already allows us to create a flow of emails to try to recover these lost customers.
It already gives 3 standard emails that we can customize and translate.
30 minutes after
1 day later
2 days later
Each of these emails is intended to make the user return to the site already directly to the checkout page. In the last email, including, I suggest offering a special discount already applied in the cart of about 10% for them to complete the purchase.
Conclusion
There are several ways to improve our online stores and each case will be a little different.
The above sugetões are intended to help you sell more and think about how to always find better solutions to common conversion problems in WooCommerce.
Are there any other suggestions or actions you've taken in your store that have generated a legal result? Were any of these suggestions that applied and had a good result? Tell me below in the comments.
Enjoy!